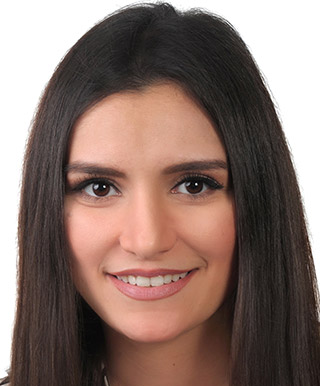 Dr. Droubi received her D.D.S degree from Damascus University, Faculty of Dental Medicine in 2017. Currently she is enrolled in a four-year master's degree program in Pediatric Dentistry at Damascus University. Dr. Droubi is doing a research paper in her master's about "Evaluation of the Effectiveness of a Customized Handle Toothbrush in Dental Plaque Control in Healthy Children and Children with Down Syndrome (Randomized Controlled Trial)". She has conducted a survey of 538 parents to evaluate the parents' knowledge of the Effectiveness of Tooth Brushing in Children. The survey was approved for publishing from the Damascus University Journal for Medical Sciences.
Dr. Droubi practices pediatric dentistry in the Droubi Dental Clinic, as well as in the Department of Pediatric Dentistry at Damascus University, where she works with the currently enrolled dental students. In addition, she is a contributor to many awareness programs for children and oral health. Dr. Droubi offers comprehensive treatments for patient ages ranging from 1 day to 17 years of age, as well as special needs patients of all ages. She possesses the necessary skills in procedures, behavior management, and simultaneously offers support to patients with dental phobias. Traumatic injuries are a specialty that dr. Droubi has long and invaluable experience in treating. She takes continuing education courses to stay current with the latest advances in dentistry.
Dr. Droubi's passion lies in treating her patients in the gentlest way possible. With the help of the latest technologies, she can improve the patient's dental health, appearance, and self-esteem. In her free time, Dr Droubi enjoys spending time with family and friends, cooking, and watching TV.