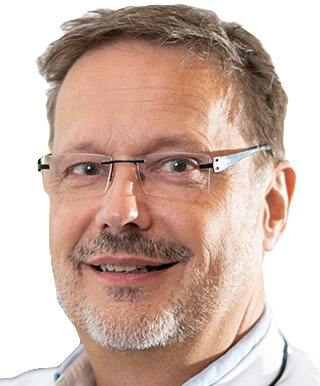 Stages of a scientist's life:
After high school, Dirk studied Biology and graduated with a Bachelor of Science degree. He then began studying dentistry and graduated in 1992. Until 2015 he worked as an oral surgeon at the Department of Oral and Maxilla-Facial Surgery at the University of Heidelberg and the University of Cologne, Germany, where he focused on implant therapy and implant-related research.
In his doctoral thesis, Dirk established a new protocol for quality assessment studies on dental implants, focusing on SEM imaging and elemental analysis (EDS). The thorough analysis of 23 implants turned out to be the ignition spark for a series of large studies in the following years and is often referred to by Dirk as the moment he opened Pandora's box. The level of pollution and the proportion of contaminated implants in the different study cohorts remain disturbing after more than ten years of quality assessment studies. To date, more than 300 sterile packaged dental implants have been under scrutiny. Still, far too many samples show significant factory-related contaminants causing biological consequences for our patients and legal implications for every practitioner.
Motivated by these alarming facts, Dirk founded 2014 the independent Medical Materials Research Institute (mmri.berlin), which is an officially accredited testing laboratory according to DIN EN ISO/IEC 17025. Based in Berlin and specialized in implant material analysis, the institute receives medical devices for testing from leading brands and dental practitioners throughout the world. He is a member of the AO, EAO, DGI, BDIZ EDI and a member of the implant council of the British Academy of Implant and Restorative Dentistry, BAIRD.
Since 2016 he is a guest researcher at Charit University Medicine Berlin, Campus Benjamin Franklin. In 2016, Dr. Duddeck founded the non-profit organization "CleanImplant Foundation". The foundation set new standards in 2017 with a consensus-based guideline on implants' cleanliness and developed and established the "Trusted Quality Mark". This seal of excellence for residue-free, clean implants is exclusively awarded after an independent and peer-reviewed process of analysis. In a pathbreaking pilot study, "On the Cleanliness of Different Oral Implant Systems", published together with Tomas Albrektsson 2019 in the peer-reviewed Journal of Clinical Medicine (JCM), the need for this passionate fight for a reduction of patients risks and for clean medical devices in implantology gets clear. Today, every dentist can support Dirk's rigorous work by joining the project and becoming a CleanImplant Certified Dentist.